Network of sales offices
With an extensive sales network of 249 offices around Japan, making us the top class directly-managed brokerage firm nationwide, we always have a large number of properties on our books. We also have an extensive network of 65 offices in the center of Tokyo, where the Japanese real estate market is most active and offers great investment potential. We have countless properties on our books that would be interest to overseas customers, too.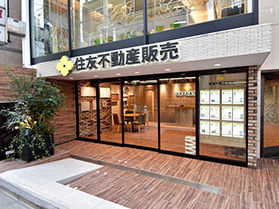 Offices in the center of Tokyo

Track record
The number of properties that we handle continues to increase. In fiscal 2020, the total number was 46% higher than in fiscal 2001. We believe that this is due to the tremendous trust that our customers place in us, having developed hand-in-hand with the resale housing market in Japan throughout the market's history.
Our proven track record and wealth of expertise, as the top class brokerage firm nationwide in terms of the number of directly-managed properties, ensures that we are able to meet a wide range of customers' needs.

Company profile
Name
Sumitomo Real Estate Sales Co., Ltd.
Head Office
2-6-1,Nishi-Shinjuku,Shinjuku-ku,Tokyo,Japan
Established
March 1, 1975
Representative
Nobuaki Takemura, President
Accounting term
Ends March 31
Capital
¥2,970 million (as of April 1, 2021)
Employees
3,642 (as of March 31, 2021)
Business activities
1. Real estate sale and leasing brokerage
2. Real estate consignment sales
3. Real estate leasing
4. Services associated with all of the above
Contact Us
Real estate in Japan makes stable and highly attractive investment.
If you're interested in buying or investing in real estate as assets, please come and talk to us.

Japanese real estate consulting service for international customers
Sumitomo Real Estate Sales
Tokyo Consulting
Inquiries within Japan
TEL:03-3548-8167
FAX:03-3274-9145
Sumitomo Fudosan Yaesu Building 9th Floor, 2-4-1, Yaesu, Chuo-ku, Tokyo, 104-0028
Tokyo Station, JR Yamanote Line
Kyobashi Station, Tokyo Metro Ginza Line